I thought we'd celebrate this one with something a little bit different, yet not. Have a listen…
Imam Muhammad Al-Hussaini is a second-generation British Muslim who grew up in London during the 70s, and who was drawn to the London-Irish Centre to learn to play the fiddle.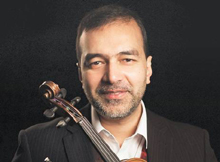 Loving the music he went on to meet Pat Connolly, a Connemara sean-nós singer, who helped him hone his singing technique, and in 2014 won Gaelic Voices. In the same year he performed at the All-Ireland Fleadh in Sligo where he captivated his audience.
"I felt a sense of kinship. I always had a deep love of Irish culture and history, the sense of family."
Muhammad has and does face challenges, expecially with the backdrop of a fairly conservative UK Muslim community, but with such a beautiful voice we're delighted to be able to listen to his music.
Definitely an honorary member of the diaspora :)