the first submarine!
John Philip Holland (Seán Pilib Ó Maolchalann, 29th Feb 1840 – 2nd Aug 1914) was an emigrant Irish American who developed the first submarine. He emigrated to the US in 1873 having been born in Liscannor, County Clare, to his Irish speaking mother, Máire Ní Scannláin.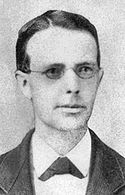 He was active in the Irish Republican Brotherhood (IRB), and in conjunction with the Fenians conceived a plan to develop a small submarine that could be sealifted on a merchant ship to an area near an unsuspecting British warship. The submarine would then be released from the bottom of the merchant vessel to launch an attack.
Hollands early intentions were never realised, however he does take the honour of  subsequently developing the U.S. Navy's first modern submarine and he become known as the father of the U.S. Submarine Service.
The John Holland story tends to be 'off the radar' so we think he warrants a mention at diaspora.ie! You can find out more about the man on wikipedia here and here.