… an Antarctic explorer.
Tom Crean (20 July 1877 – 27 July 1938) was an Irish seaman from County Kerry who had a distinguished career as an explorer during the heroic age of Antarctic exploration. Known for his tougnhess and his reliable nature he was a member of three major British expeditions to Antarctica, and after the Discovery Expedition he joined Captain Scott's 1911–13 fated Terra Nova Expedition in the race to the South Pole.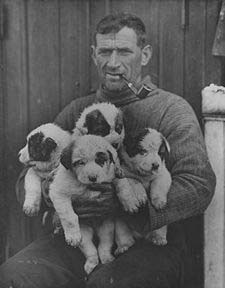 Scott and his party died in the race and Tom Crean became renowned (and was subsequently awarded an Albert medal) for his 35 mile solo walk across the Ross Ice Shelf to rescue and save one Edward Evans.
Here's a wiki link if you'd like to learn more, and if you're in Ireland and want to catch a theatre show celebrating a great individual check out www.tomcrean.co.uk
A modest man and a shining example of Kerry blood.