The Great Irish Famine, or 'An Gorta Mor' (The Great Hunger), will be commemorated this year by the first ever provincial National Famine Memorial Day, to be held on the 17th May in Skibbereen, West Cork.
A programme of famine-related events have been organised by the local community including music, drama, talks and a variety of commemorative events, and the full schedule can be downloaded from the Skibbereen Heritage Centre website here.
Communities around the Republic are also being encouraged to hold commemorations, and sporting organisations are being asked to observe a minute's silence on National Famine Memorial Day.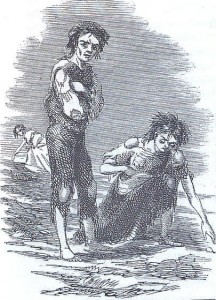 The Great Famine resulted in the formation or growth of many diaspora communities, and in the 1840s and 50s as many as 250,000 arrived in Canada for example. In recognition of this Canada will also be holding its own memorial day this coming week-end on 10th May.
While the famine was responsible for a significant increase in emigration it was not the sole cause. Irish movement can be traced back to the middle of the 18th century when some quarter of a million people left Ireland to settle in the New World. From the defeat of Napoleon to the beginning of the famine between 1 and 1½ million had emigrated. However, during the worst of the famine, emigration reached around 250,000 in one year alone, with more coming from western Ireland than any other part.
Emigration from 1845 to 1850 was predominantly to England, Scotland, the US, Canada, and Australia, and by 1854 between 1½ and 2 million Irish had left due to evictions, starvation, and harsh living conditions.
In support of the Memorial Day, Eneclann is commemorating two Skibbereen doctors, (Dr. Daniel Donovan and Dr. David Hadden), who worked tirelessly to save people during these terrible times, and are also donating 5% of their CD sales to Gorta during the commemoration week. (Gorta is Ireland's longest established overseas aid agency and has been tackling the issues of food security throughout the developing world since 1965. Gorta's name, meaning "famine", acknowledges its close association with extreme hunger, both historically in Ireland, and where it exists around the world today).
You can read more about the Eneclann / Gorta initiative here, and take a few moments to have a look at Eneclanns online shop as well – its an absolute treasure trove full of hidden gems!
The annual Famine Memorial Day will revolve between the four provinces of Ireland, and it is envisaged that the 2010 commemoration will take place in Co Mayo.