The first Fastnet Short Film Festival took place in Schull last weekend and has been applauded as a resounding success. Film-makers from around the world submitted their works, and over 80 films were shown during the three-day period.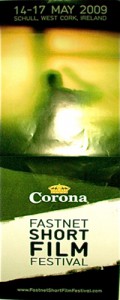 The festival itself had an impressive list of patrons and this, along with the lead up promotion of the event, encouraged some top quality producers to enter their films. With the picturesque backdrop of Schull you'd be forgiven for likening it to the 'slightly larger' event taking place in France at the same time!
In the words of the organisers 'the aim of the Fastnet Short Film Festival is to bring together established and future film makers and provide a forum to celebrate the short film genre. Our wish is to build this festival into an event recognised by the film industry, and to identify and encourage film makers of the future.'
Well the celebration was an undoubted success, and with the goodwill expressed by many and the enthusiasm and professionalism of the organisers, this is sure to build into an annual affair that can only go from strength to strength.
Although not a competition as such, the judging panel did select films for various categories that were given special recognition. These were:
Best of Festival: 'An Cosc' – directed by Vincent Gallagher
Best Drama: 'Penny' – directed by Paddy O'Shea
Best Cinematography: 'Tart' – directed by Mairtin De Barra
Best Use of Music: 'Of Best Intentions' – directed by Brian Durnin
Best Comedy: 'Hammerhead' – directed by Sam Donovan
Best Director: 'Play' directed by Muriel d'Ansembourg
Best Documentary: 'The Stolen Generation' by Kim Houghton and Pól O Conghaile
Best Experimental/Animated Film: 'Tomato Soup' by Paul O' Brien
Best Screenplay: 'The Escort' – by Clare Holman
Here's the official Fastnet Short Film Festival site, and here's a photo taken from the closing ceremony acknowledging the efforts of the organising committee: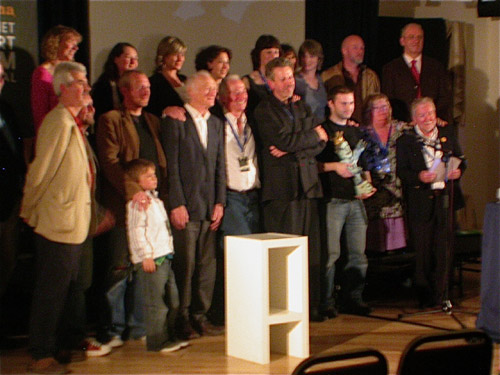 Well done everyone, great stuff and immensely enjoyable, and we look forward to Schull 2010!