with Katie McMahon!
If you're anywhere near Minneapolis and have a passion for harp and voice, and a desire to learn, you're very much in luck. Former Riverdance singer and harpist Katie McMahon is teaching beginning and intermediate harp & voice and you can get all the details at her new website here.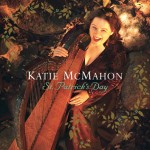 Harp: Katie teaches the classical technique she studied from her own wonderful harp teacher Denise Kelly (Ireland's National Symphony Orchestra harpist), and special emphasis is placed on technique, music reading skills and musicality. Once you reach a certain proficiency you are encouraged to pursue whatever musical style you wish, whether it be jazz, rock classical, Irish or folk.
Voice: Katie is a classically trained soprano and has also delved into folk and new age. She is open to teaching in many styles and you will also learn about proper breathing technique and interpretation of the lyrics and music.
What can we say, an opportunity to learn from a real star, and we expect to hear the sweet sound of music drifting beautifully over the City of Lakes!