…so wats the story, whell its loike this, loike, if yer in cahrk ya havta learn ta lishen bai!
Now with a lilt (capitals going up the scales)…
..so WATS the storY, whell its LOike this, LoIKe, IF yer IN CahRK ya havtTA LEArn ta lishEN baI.
Give it a lash and you're all geared up for a visit!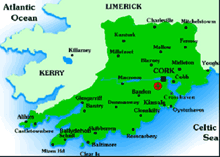 You'll need a few other words as well, but no cool travel dictionary to sort this one out – Sony tried i think, but gave up!
If someone's got a 'lapsi pa' it is'nt a missing father, more like a dodgy disease no doctor can identify, and if someone says they're 'on the tack' then they're off the drink, but probably only temporarily!
So, if you're coming to the Capital, (yep, tis so!), you know you're going to be bilingual, and have a Cork accent, when you leave – how's that for a bonus.
Here's a skit from Tommy T…

(He has a secret wish by the way, hint – he's originally from Galway!)…
[ad#GAP]