See your ancestors records online from the Irish Census 1911 (and 1901)…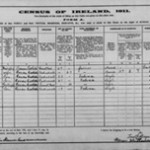 The Census of Ireland, 1911, covered the whole of the island of Ireland, and was carried out on Sunday 2 April of that year. The National Archives of Ireland have been busy digitising the census and have make it available online.
The census itself was recorded on the following forms:
Form A, which was completed by the head of family
Forms B1, B2, and N, completed by the census enumerator
Form A contained information about each person in the home on the night.
Form B1, the House and Building Return, was completed by the enumerator and summarized administrative information for the street or townland, or part thereof.
Form B2, the Return of Outhouses and Farm-Steadings, gave more detailed information on secondary buildings attached to a property, such as outhouses, workshops, and various kinds of farm buildings.
Form N, the Enumerator's Abstract for a Townland or Street, recorded the enumerator's name, the same administrative information as listed for Form B1, the properties and which were inhabited, and the numbers of families, males, and females, and persons of each religious denomination.
I did 1911 family search (the Regans of Brulea townland, Co. Cork) and got a PDF of the original census form. My great-grandfather, 67 years old at the time, was listed as 'head of family' but was also listed as 'cannot read'. I can only guess that maybe my great-grandmother was the one who actually filled out the form?
Rather reassuringly though, none of my ancestors were recorded as being either imbecile, idiot, or lunatic!
Check the archives out for yourself – it's a great link to your family history and heritage.
---
[ad#GAP]