This girl is travelling…!
Born in Dublin in 1987 to working-class Irish and Nigerian parents, Laura Izibor is one of Irelands new young talents to hit the big time. She must have got a hint of what was coming after topping the Jacob's/RTÉ 2fm song contest while still in secondary school,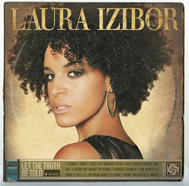 and winning a Hope for 2006 Award at the Meteor Music Awards meant the train was definitely leaving the station.
She performed at the 2006 Electric Picnic music festival, and in Music Ireland in 2007, and has also opened for Aretha Franklin, India.Arie, Estelle and John Legend on tour. Her debut album 'Let The Truth Be Told', which took four years to record, was released in Ireland on 8th May 2009, in the UK ten days later, and earlier this week in the US.
Even whilst writing it's just been anounced that Laura will be performing on the Early Show on CBS tomorrow morning, so things are motoring! A beautiful pianist with an unbelievably soulful voice, here she is doing a live performance of 'From My Heart to Yours'…
and now we're in the mood here's Laura singing 'Shine'…
and whilst we're on a roll we can't leave out 'Mmm'…
and finishing off with Laura doing a rehearsal of 'Don't Stay'…
Don't know about you, but i think my favourite is 'Don't Stay', maybe i'll just listen to them all again, and again, and…