Bring brolly, suncream, wellies and your humour, there's no way you're going to know what's happening!
First off there's at least three climates…
Cork Airport – built on a hill so its often in mist whilst everyone else swelters.
West Cork – edge of the gulf stream, tropical plants and twin to Florida on a hot day.
The Rest of Cork – so big you could be in your raincoat at one end and 'skimpies' at t'other!
Airlines makes a fortune with Cork tourists – it's bring the whole bloody wardrobe every time!
Sometimes this happens…

then so does this… :-)

but go to West Cork, push a stick in the ground, and you'll be going home with a palm tree!

Here's todays weather forecast for Cork, as reported from the airport…!


and here's the averages over the year…
Cork Climate
graph contributed by climatetemp.info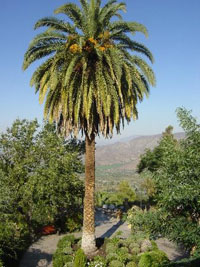 ….and here's the stick me Aunt Kitty brought back to Boston last time she was over!
[ad#GAP]