Stay up to date with Irish events and activities in Scotland…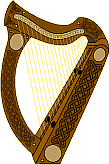 An Scéal is the monthly newsletter produced by Patrick McAleer for the Irish in Scotland, and you can get yourself onto to the circulation at the Irish in Scotland website.
The newsletter includes news from Comhaltas, GAA, Gaelic league, adult Irish ceili classes, childrens Irish dancing classes, political events and anything of interest to the Irish community.
You can also get back-issues on the site and I just had a look at the July edition. It's packed with information about what's going on so well worth getting to keep you in touch.
Nice one Patrick!