Want to learn English?
Want to learn it really well?
Want to learn quickly?
Want to enjoy the experience and have a great time?
Simple – learn English in Ireland!
Language Travel Ireland give you the best chance of improving your English – 'By Living It'. They provide intensive, one-to-one English courses in your teacher's home, and their aim is to help you improve your English in the shortest possible time.
Plus there's an additional opportunity – you get to enjoy Ireland and an authentic cultural experience at the same time. You can choose 10, 15, 20 or 25 hours English lessons per week and stay as many weeks as you like. You can learn in Galway, Dublin, Cork or Limerick, and get out and about and enjoy the local scene whilst here.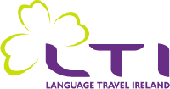 Everything will be in English so you've got no choice but to soak it up – and it works. Each year 130,000 foreign students come to Ireland to learn English, and Ireland is now one of the top destinations in Europe.
If you're looking for something extra, LTI also provide English for business, farm stay, and sports and cultural programmes, so there's plenty of options to choose from.
Hopefully we've got you thinking, and you can get all the info at the LTI website.
Enjoy, come to Ireland, learn English, and have a great time!