Strange topic for diaspora.ie? maybe not…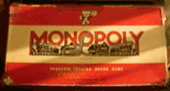 Hasbro, makers of the board game Monopoly, have been in Waterford for nearly 30 years and each year roughly 1.5 million boxes get shipped to 26 countries around the world.
The set we used to play with as kids was in the old red and white box, like the one on the right here with the frayed edges! but over the years you'd see all types of variations to appeal to new generations.
We had hours of fun trying to buy the hotspots, and gloating like smug brats if you managed to stick up a hotel or two on the 'prime locations'. For some reason I liked getting the stations – must be the train buff in me! It was one of those games that you either loved or hated, and i'm sure many budding property developers spent their early days trying to get one over on their friends and family competitors!

Monopoly Online
It's the 21st century, Monopoly has evolved, and now you can play the game online – it looks like good fun as well. The makers have linked up with Google to produce a Google Maps version and you choose what road you'd like to buy. You then compete with every other player on the board which basically means it's global!
Starting with 3 million Monopoly dollars you can build not only hotels and houses but also football stadiums, castles and skyscrapers. If inclined you can also sabotage neighbouring rivals by building rubbish dumps, prisons or wind farms on their property to reduce the rent value of their assets! The game ends on January 31st, 2010.
Now I don't know if it's just me but isn't there a whole load of irony here – especially from an Irish perspective! The only difference I can see is that when we were kids we used to make up our own rules, like agreeing with each other we could borrow from the bank when we pleased, or lending money to our mates to get them out of a sticky corner! Here you have to stick to the rules of the game!
I also can't help looking at the helicopter heading out on the site's home page, and wondering if it's loaded with Irish property developers fleeing the fire! I havn't got into the online game yet (the site is under pressure) but am also keen to see if there's a 'NAMA get out of jail' card if you find yourself in the proverbial! ;-)
Oh i could go on, but maybe it's best to finish by letting the big boys know that they can relive 'the good old days' at monopolycitystreets.com!
(Oh, and bagsy Ballydehob Main St if the creators would only include it – it is a goldmine!)
[ad#GAP]