How would you like to follow the steps of Joyce and Beckett in some delightful walks around Paris?
Bernadette's brother Brian has published a fantastic little guide, "The Paris of Joyce and Beckett", and it gives you a great excuse to go exploring the French capital.
There are 9 itineraries taking you to many of the main attractions, and the book expands on the experience by painting imaginary scenarios concerning the two great literarists at different points in their lives. (Joyce came to Paris from Trieste with his family in 1920, and Beckett's En Attendant Godot was first staged in 1953.)
The guide has had a number of reviews and some great feedback…
The Irish Post: "Serves to create an extremely convincing landscape in which both of these writers lived."
Books Ireland: "We look forward to seeing crocodiles of Joycists and Beckettians marching determinedly along these routes."
Independent On Sunday: "Take this with you on your next Paris trip."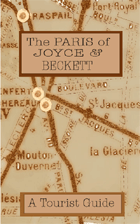 A flavour…
ITINERARY VIII: RUE DES FAVORITES – LAMARCK CAULAINCOURT – QUAI DE VALMY – PLACE D'ITALIE
SCENARIO:
It is December 1948 and one of the most severe winters of the century is about to begin. Beckett is in his seventh floor apartment rue des Favorites (15th arr.). He is in a state of existentialist immobility and in considerable gloom. Funds are low and he is stuck at a crucial stage of En Attendant Godot (Waiting for Godot). He is reflecting morosely on the lack of response the previous year to his quite substantial output of Eleutheria, Molloy and Malone Meurt (Malone dies) but determines nevertheless to persevere with his new drama. It is a struggle however. Outside a cold drizzle is falling on the grey pavements below, a true Parisian pluie fine. Beckett decides to go out and puts his raincoat on…
The guide isn't available on Amazon, or eBay, or anywhere else online, you have to do this the old fashioned way and either pop into a bookshop or contact Brian direct.
Copies are available at:
Queens Park Books, Salisbury Road, London, NW6.
the London Review Bookshop, Bury Place WC1, Daunt Books, Marylebone High Street.
The Four Provinces Bookshop, 244 Grays Inn Road, London, WC1.
Charlie Byrne's Bookshop Middle Street, Galway.
The Winding Stair Bookshop Ormond Quay, Dublin.
The James Joyce Centre, 35 Nth Great George Street, Dublin.
Shakespeare and Co. 37 Rue de la Bucherie, Paris.
or by mail order from London Irish Literary Travel 62b Hereford Road London W2 5AJ
(£7.49/Euro 9.99/$15.00 – please make cheques/postal orders payable to Brian O'Shea).
You can also get in touch with Brian by email at bri.oshea@gmail.com
Bon voyage, and we hope you enjoy exploring Paris in a different and truly pleasant way.