You know her story, here's the song…
and definitely no overnight sensation, listen to Susan singing beautifully back in 1999…
'I Dreamed A Dream'
Susans first album 'I Dreamed A Dream' is due for release on November 24th, but is already leading the online-retail charts with preorders near the topspot on Amazon. It's available at $9.99 and if you'd like to order a copy you can click on her link below:
I Dreamed A Dream
Nice one Susan, congratulations on the album and we can't wait to hear all the tracks: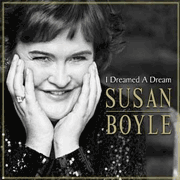 1. Wild Horses
2. I Dreamed A Dream
3. Cry Me A River
4. How Great Thou Art
5. You'll See
6. Daydream Believer
7. Up To The Mountain
8. Amazing Grace
9. Who I Was Born To Be
10. Proud
11. The End of The World
Love ya!
[ad#GAP]