West Cork Arts Centre was established in 1985 in Skibbereen, Co. Cork, and supports a multi-disciplinary arts program with a strong focus on modern and contemporary visual art.
The centre is committed to the development of opportunities for artists, especially in rural communities, and because of it's success and growing demand is planning to move from it's rented premises to a new building nearby at the site of Wolfe's Bakery. The new space will provide a quality arts facility for the community, vastly improved exhibition and studio spaces, and in their own words 'will have a positive impact on the aesthetic, cultural, social, economic and educational fabric of the region'.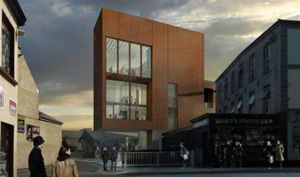 So far WCAC has secured €1.5 million from the Department of Arts, Sports and Tourism, €1.4 million from Cork County Council, €375,000 from the Bollinger family, and has received huge support from the local community and other arts and cultural organisations in the region, and from artists and practitioners themselves.
They now have one final hurdle to jump – to raise €275,000 in the next 3 months. If the centre fails to raise this final 8% then the other funding pledged will lapse and the project will be cancelled.
I received a call for help from Alyn Fenn from the centre last week. They are trying to make contact with any organizations or associations in America, Canada and the UK that have connections to West Cork and whose members might like to 'buy a brick' to help them meet their target.
If you know of, or are associated with any organisations that would like to get involved then please contact the centre direct.
I really hope WCAC achieves it's aim here. I've been to a couple of performances and exhibitions and what they accomplish is both exhilarating and exciting. Any assistance, no matter how big or small, that helps them get their new building I know will be greatly appreciated.
[ad#GAP]