Right now you can send a letter to Michael Regan, Scrahanaleary, West Cork, Ireland, and it'll drop in our letter box – fairly quickly too.
Ireland is the only country in Europe that doesn't use a postcode system, and it isn't really a problem. The only time you might run into difficulty is on websites that insist on a code as part of your address. Then it's make one up time – I've used CO1, CO2 and WC1!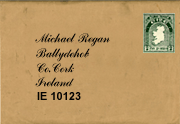 But change beckons and the Minister for Communications has announced the introduction of a national postcode system from 2011. So what format should it be?
Irish Postcodes
Alpha-numeric (eg: ATH 123 – Athlone)
The PONC system (developed by GPS Ireland)
IE followed by a numeric code (eg: IE 10123)
Derived from original placenames in Irish (as proposed by Conradh na Gaeilge)
Numbers, or numbers and letters unrelated to placenames in any language
Something new, possibly improving on systems in use in other countries
I tend to agree with Conradh na Gaeilge that we shouldn't base the format on the english spelling of placenames, but not sure how well it would work for Irish placenames either. For example Ballydehob in Irish is Béal Átha Dá Chab (mouth of the two river fords) so would we go with BÁDC or BÁ or similar, and how complex would it be differentiating one area from another?
Personally I like the idea of IE followed by a numeric code (IE 10123), or possibly IE followed by a county prefix, followed by a numeric code, (IE CO123). Whichever way we go it would be good to have something with a national identity.
Update: 31st Jan 2010 – The Department of Communications has issued an invitation to tender for implementation of the system, due in by the end of 2011. An alphanumeric model to identify clusters of houses has been approved, and would read, for example, as D02 123 or ATH 123.
The press release also states the format will have a geo-coordinate at its centre, making it compatible with global positioning and navigation systems. What this means for individual houses, or the final format, waits to be seen – will be interesting to see how GPS coordinates are built in whilst keeping the postcode easy to remember.
[ad#GAP]