The Dictionary of Irish Biography is the culmination of 12 years work and has been described by Seamus Heaney, Nobel Prize for Literature (1995), as 'an epoch-making event in the history of Irish scholarship'.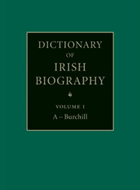 The nine-volume Dictionary catalogues the lives of the country's most remarkable men and women, and the noteworthy Irish careers of those born outside of Ireland. It is the most authoritative biographical reference work ever to be produced in Ireland, and contains over 9,000 entries documenting the lives of 9,700 Irish individuals ranging from the earliest times to 2002.
Compiled under the auspices of the Royal Irish Academy and edited by James McGuire and James Quinn, the entries vary from short summaries to detailed assessments, depending on the significance of a particular subject.
J.J. Lee, Director, Glucksman Ireland House and Glucksman Professor of Irish Studies, New York University:
"Imaginatively conceived, and meticulously edited, the Dictionary of Irish Biography fills, and fills handsomely, perhaps the most glaring of all gaps in Irish historiography, propelling Ireland into the very front rank internationally for reference works on this scale."
The Dictionary will be in every major library globally, and on the shelves of countless individuals, and will be especially important in helping to sustain Irish studies courses in universities throughout the world. The set costs £775 sterling with a special introductory offer of £650 for those who purchase before February 2010. There will also be an online version, and new entries will be added to it twice a year starting from May 2010.
This is a fabulous and unique achievement, and congratulations to the editors and the 700 advisors and contributers who worked to bring this gem into the light of day. It will forever be a fantastic resource for everyone interested in Irish humanities, literature, and history.
DICTIONARY of IRISH BIOGRAPHY
- Publisher: Cambridge University Press; 1 edition (December 31, 2009)
- Language: English
- ISBN-10: 0521633311
- ISBN-13: 978-0521633314