The Irish lilt has topped a poll of the 'World's Sexiest Accent'!
5,000 women worldwide voted Italian second, Scottish third, and the French were demoted to fourth place!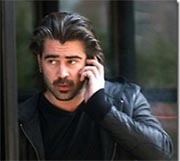 Actor Colin Farrell seems to have done it for the ladies, and French president Nicolas Sarkozy is credited with blowing it for the French. He is reported as single-handedly changing the perception of how the world sees French men.
Here's the top ten:
1. Irish
2. Italian
3. Scottish
4. French
5. Australian
6. English
7. Swedish
8. Spanish
9. Welsh
10. American
The Poll was carried out by onepoll.com
Bit of fun methinks, but worth a mention!
Oh, and also worth a peek… English man wakes up with an Irish accent after brain operation!
and this… Cork accent!
No guarantees!!
:-)
[ad#GAP]