"An unshakeable confidence and innate sense of pride"
Cork has recently been nominated by Lonely Planet as one of the top places to visit in 2010. Under its 'Best In Travel 2010′ guide it ranks Cork with cities like Singapore, Abu Dhabi and Vancouver as a place not to be missed.
'Cork is at the top of its game right now: sophisticated, vibrant and diverse, while still retaining its friendliness, relaxed charm and quick-fire wit' – a city with 'an unshakeable confidence and innate sense of pride'.
The guide recognises Cork for its defining experiences and places special attention on its restaurants, festivals and events, shopping and places to stay. It also pays tribute to the fact that Cork 'crackles with youthful energy' whilst at the same time preserving its sense of history and tradition.
It's great to see the city acknowledged like this, and all in all fantastic news for Cork.
And why the title 'MyCork'…?
Very simple, it's in recognition of the Polish people who have also made Cork their home, and who are now an integral and active part of the community. Whilst it's true that many have left more recently there remains a strong and positive presence, and the Polish are part of the dynamic that makes up the modern character of the city.
So much so that they have their own city website – mycork.org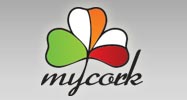 Now the site is in Polish so unless you are Polish, or just want to brush up on the language, there's probably not much point going over. I did spend a bit of time on it though, and what i picked up on was similarities between the modern Polish diaspora in Cork and the Irish in London I grew up with in the 60s and 70s.
What comes across is the sense of identity, family values, an eagerness to make the best of where you are, and an enthusiasm to get out there and enjoy what's around you. There's obviously challenges but the Polish are a welcome part of that diversity, and it made me think 'when you see a Polish man walking along the streets of Cork today, you're also in many ways seeing an Irish man walking through London yesterday'.
Well done Cork, and to everyone who lives there and makes it what it is.
And here's a bunch of happy Corkonians havin a bit of fun…!
:-)
[ad#GAP]