A strange article for diaspora.ie? maybe not…
Last week we had the pleasure of listening to Michael Kelly talk to a room full of people whilst waving a vegetable in the air. That was the day I realised a Cork grown Irish garlic wouldn't be a strange thing at all!
Michael worked for ten years in the IT industry in Dublin, but these days lives life as a freelance writer, bestselling author and broadcaster. One of his books, 'Tales from the Home Farm', is a guide to producing food in your back garden, and it was the passion he expressed about self-sufficiency that caught me.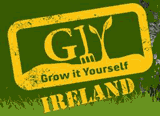 GIY Ireland was started by Michael and it's all about bringing people together and giving them the confidence and ability to grow their own food. The website is a focal point for sharing information, and the story centres round the 40 GIY groups that have already established themselves in various parts of Ireland over a few short months.
It's a great venture that benefits everyone who gets involved, and i'd recommend you visit the GIY website and have a read yourself.
Here? well i'm already been doing a bit of learning and 2010 will see the advent of prize winning Ballydehob garlics!
And the diaspora..?
Michael is racing round Ireland helping groups get set up so jumping on planes could be tricky (but hey, you could always ask him!). What you might do though is see what he's up to and think about whether it's a model that could work where you are.
Well done Michael, and I suspect if you thought 2009 was busy….!