NORAD (North American Aerospace Defense Command) is probably the most technically advanced tracking facility in the world. If someone wants to know what's happening in the air, or in space, NORAD provides the answers.
The full might of the organisation has been on 'red' alert over the last few hours as they monitored unusual airborne activity – the worldwide delivery of Christmas presents by Santa himself!

Here at diaspora headquarters we managed to break through their defence systems and download data about Santa in Ireland! Here is what we found…
Timecheck : GMT – 00:20 – Santa arrives in Ireland from Iceland having delivered 1,362,948,863 presents so far….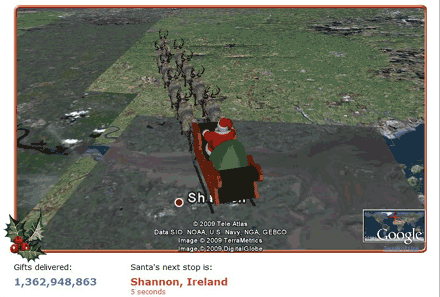 Timecheck : GMT – 00:21 – Santa leaves and heads off towards the Azores having now delivered 1,363,054,183 presents…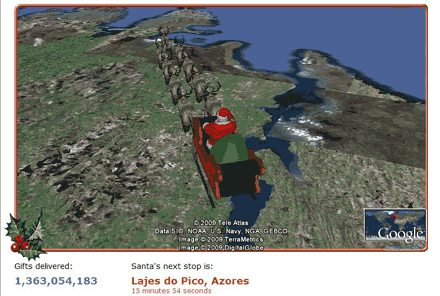 We fed these figures into our super-dooper data analysis machines and can confirm that Santa brought 105,320 presents to our little Island. He's a lovely man, but we're a bit confused as to why he dropped them all off in Shannon! Only NORAD and Santa himself can answer that one!
Update: NORAD have confirmed that some of Santa's Elves worked tirelessly through the night visiting all the houses in Ireland – so hopefully lots of happy little people this morning (and some big ones too!)
Merry Christmas all – and a happy new year.
:-)