Just before Christmas we had the pleasure of being shown around the Julia by Pat O'Neill. We weren't sure what to expect and I guess our thoughts were of trips on the previous ship.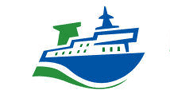 The Julia is a classier lady and Pat made us very welcome as we wandered the decks and the various bars and restaurants. Bernadette also had a good scan of the cabins and I think she made a mental note of the West Cork Suite! – fortunately they all looked inviting. She's a marked improvement on her predecessor with higher levels of comfort and facilities, and just has a more pleasing feel about her. Definitely looking forward to travelling on her as a passenger.
Doing the guy thing I asked if we could get into the engine room but sounds like you need to be a bit of a ladder monkey so we passed on that one. Pat quickly made up for it though and we were soon heading upwards, through some heavy steel doors, and into the Bridge area.
It's quite a thing to stand at the helm of such a vessel, and before you could say 'ahoy there' Bernadette was organising a quick conflab about how she handled at sea…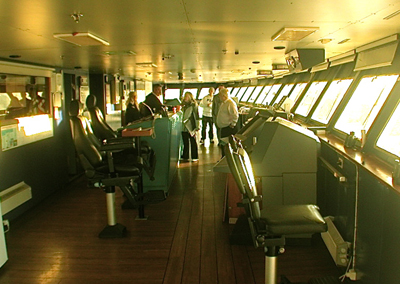 Well one thing lead to another and it wasn't long before she'd got her head round the port and starboard thing. All it took now was to find the ignition key and the steering wheel! Ok Pat – how about taking her for a spin?
10 minutes later we're gingerly doing a 3-point turn as Bernadette whizzes the wheel in one direction and then the other. Pat's holding his breath and I know what he's thinking…!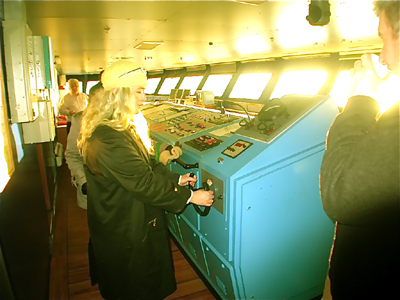 Well it was a lovely little cruise, we kept her below 4 knots, Bernadette got her stripes, and it was sunset before we moored up again…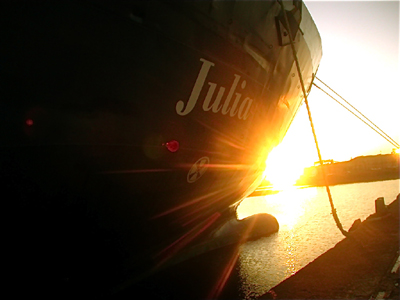 Great afternoon, and I don't think anyone even noticed! ;-)
(Ok, we didn't really but it's nice to day dream! She's a great credit to everyone who's had the drive to make her a reality. Something to be very proud of.)
and from RTE….