I've written about Language Travel Ireland before, but their farm stay programme deserves a special mention.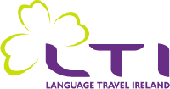 You get the real thing, and you get a great opportunity to learn English as well. You'll take part in farm activities, eat with the family, and find yourself totally immersed in the English language. You'll get full board accomodation with your own room, and have English lessons from a private teacher ensuring you get the best from your stay.

Here's what Johanna, a young German student, had to say…
"It was first journey without my parents to another country and I've enjoyed it very much. The house of my family had a very nice garden. In the evening, we had a barbeque in their garden and a few friends came. They were really nice and they told me a lot of their lives. The English lessons with my teacher were good and we had a lot of fun. One day, we went to Fota Wildlife Park and I saw giraffes, monkeys and a lot more animals. Another day, we drove to Galway and went to visit their relatives. While we were driving through the beautiful scenery, my teacher and her two daughters sang Irish songs. I enjoyed my trip to Ireland and definitely I will come back."
LTI offer a unique and authentic experience, and if you're looking for a farm stay holiday you should really check them out. Here's their farm stay programme. Enjoy!