When you join diaspora.ie you also get your own personal Certificate of Irish Heritage.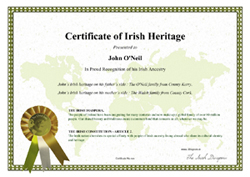 The Irish government recently announced that a privately owned company will be launching a Certificate of Irish Heritage. You have to prove eligibility and some may find it difficult to locate old records, or object to the cost, so we thought we'd introduce our own and provide a choice.
It's easy, immediate, and free – and when you join you can download your certificate here.


See an example of what your certificate will look like.
---
Official Irish Heritage Certificate
Update 2011: The Fexco website for the official Irish heritage certificate is also now live at heritagecertificate.ie. The certificate costs between €40.00 and €60.00 excluding delivery and VAT where applicable. It is available in different designs and a frame can be ordered as an option.
When you apply you will need to provide a formal ID; a copy of your driving licence, Social Security Card, or National Identity Document. You can also provide the name of one or two of your ancestors to appear on the certificate, as well as their year and county of birth if known.
When applying you may consent to be contacted with information about topics, goods and services relating to Ireland which the Minister for Foreign Affairs feels may be of interest to you. Such information will be provided via the Concessionaire in partnership with other Government bodies such as Culture Ireland or the Central Statistics Office etc, or State sponsored bodies such as Tourism Ireland, Enterprise Ireland, IDA Ireland, the National Treasury Management Agency etc.