There's a great account of Irish theatre history running on RTÉ Radio 1 at the moment, and it's a world full of riots, protests, and high drama..!
From Stage To Street is an absorbing journey back to the times when what was happening on the Irish stage was also reverberating out on the streets. From the Playboy riots of 1907 to more recent controversies, it's a fresh and entertaining look at key moments in Irish theatre.
Why did Lady Gregory's nephew lead a drunken chorus of 'God Save Our King' at the Abbey in 1907? And why, 50 years later, was Brendan Behan leading a drunken chorus of 'The Auld Triangle' outside Dublin's pocket theatre, the Pike?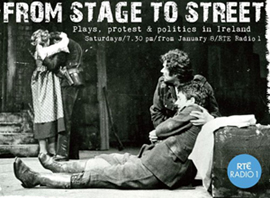 Why, in 1926, was an actor in Sean O'Casey's "The Plough and the Stars" the victim of an attempted armed kidnap? and was it really that unpatriotic to fly the tricolour in a public house?
Tennessee Williams' "The Rose Tattoo" at Dublin's Pike theatre saw it's director Alan Simpson hauled from the stage and arrested for bringing indecency to the theatre when a condom fell from the pocket of an actor during the play.
Presented by Colin Murphy the series captures these events and more, and it's very enjoyable to listen to. Each week there's talk about the players and passions at stake in the most provocative moments in Irish theatre history, and each story is brought back to life in a colourful reminder of the vibrancy of the times.
A delightful education and you can enjoy the latest playback here. There's also a Stage To Street Facebook page with video, photos, soundtracks and archive material so plenty to delve into if it's caught your imagination.