President Barack Obama's great-great-great-grandfather, Falmouth Kearney, left Ireland in 1850. He was following in the footsteps of family members who had departed for the United States as far back as the late 1700s and who, as described by Steve MacDonogh (the late author), were highly representative of the people who developed the frontier regions of the US.
Destined for Ohio where a relative had left property in his name he later married, had 10 children, and settled in Indiana where he worked as a farmer. Obama's mother, Ann Dunham, was a descendant of one of Kearney's daughters, Mary Ann Kearney, and Jacob William Dunham.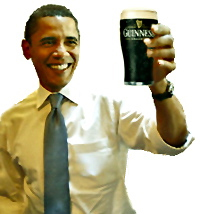 Now, some 161 years later, Barack is returning for a visit in May of this year that will take him to his ancestral home in Moneygall, a village of approximately 300 people in County Offaly, and possibly also to Shinrone – the townland with the earliest recorded connection to his Irish ancestors.
There's sure to be a warm welcome and it'll be interesting to see in which of the two Moneygall bars (it's a small place!) he has a drop of the black stuff. Not to worry about 'drinking on the job' either, you're allowed a moment here! :-)
Looking forward to your visit sir, céad míle fáilte.
Live update! Slainte sir, and some truly amazing scenes from Moneygall – wonderful to see.
---