The government has announced the date for this year's National Famine Commemoration day – now scheduled to take place in Clones County Monaghan on Saturday, 10th September.
Jimmy Deenihan, T.D., Minister for Arts, Heritage and the Gaeltacht, and Chair of the National Famine Commemoration Committee also announced that President McAleese has accepted an invitation to lead the official representation: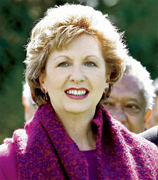 'President McAleese's involvement in this commemorative event shows the deep respect and honour that the Irish nation has for the victims of the great famine. This year's event promises to be a great success and a fitting tribute to those that perished many years ago but who will not be forgotten.'
The application to hold the commemoration in Clones was made by Clones Community Forum and supported by local historian Brian McDonald, Grace Maloney and the Clogher Historical Society amongst others, with the minister confirming that he felt that the town was particularly suitable as the Great Famine had "impacted starkly" on the area.
The Irish Presidential election takes place in October this year, and the commemoration will be one of the last official ceremonies that Mary McAleese will attend in this role.
Her ongoing engagement with the Irish Diaspora has been a feature during her tenure, and given that probably tens of millions of Irish descent around the world are where they are because of the famine it feels very fitting that she should lead the commemoration.