The Federation of Irish Societies recently launched their 'Ireland Inspires' cultural showcase to celebrate the contribution of the Irish community in Britain to arts, culture and sport.

In recognition of the wealth of artistic and sporting excellence within the Irish community in Britain, they will be helping organisations and individuals raise their profile to wider audiences in the context of the Cultural Olympiad, 2012.
Focused on art, poetry, sport, music, dance and stories, the Irish in Britain are invited to contribute by telling the federation what aspects of Irish cultural life you find most inspiring. Equally, if you are an individual artist, arts organisation or sporting team with Irish connections you can get in touch with them and help build a showcase of the very best of Irish culture in Britain.
The 2012 showcase is part of a strategy that extends to 2016 and you can find out more by visiting their website irishinbritain.org, joining them on Facebook, or by clicking on the image below.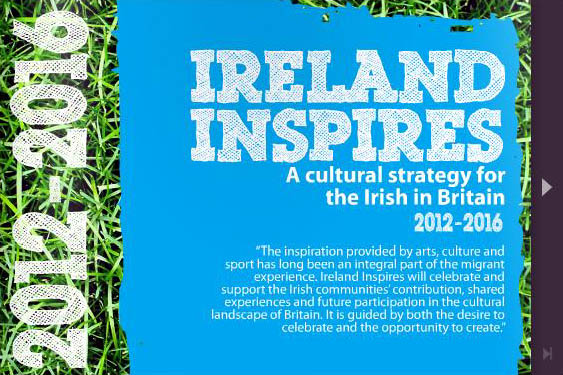 Very exciting, and looking forward to seeing this develop over the coming months and years.