Congratulations to Steve Redmond, originally from Castledermot, Co.Kildare and now resident in Ballydehob, West Cork, who has just became the first person in the world to complete the Oceans Seven endurance swimming challenge. Steve came out of the water at approx 6pm (Irish time) today, 14th July, having completed the seventh of his swims, the Tsugaru Channel between Honshu and Hokkaido in Japan, after three gruelling previous attempts in recent weeks.
2012 hasn't been a great year for Irish international sporting achievements so far, but up pops Steve and pulls off a Corker! Or to be fair, years of hard work, perseverance, sheer determination, and endless hours of training and preparation have finally given him the result he so deserves.
Oceans Seven is a massive ask and for that reason there are very few who would attempt it. First envisaged by Steve Munatones, the channels were chosen for their geographic and climatic diversity, extreme hardships, and the intricate planning needed to succeed:
North Channel between Ireland and Scotland
Cook Strait between the North and South Islands of New Zealand
Molokai Channel between Oahu and Molokai Islands in Hawaii
English Channel between England and France
Catalina Channel between Catalina Island and the Southern California mainland
Tsugaru Channel between the islands of Honshu and Hokkaido in Japan
Strait of Gibraltar between Europe and Africa

Here's a video from early last year when Steve had 5 more swims yet to complete.
At that time it still looked like a mammoth task and i'm sure his family, friends and supporters are, as all of us, immensely proud of him today as he finally dons the champions cap.
Well done Steve, and i'm sure you'll have a fine welcome home when you return to Ireland.
;)
Steve's Oceans Seven Challenge on Facebook


---
Update 17th July
And what a welcome! A happy and emotional arrival at Cork airport, followed by a surreal meandering convoy of flashing lights and hootin' horns on the 60 mile trip through the towns and villages of West Cork. Garda and fire brigade escort along the way with crowds and bonfires to greet the returning champ, followed by the eventual arrival some time later in Ballydehob. Quite a night!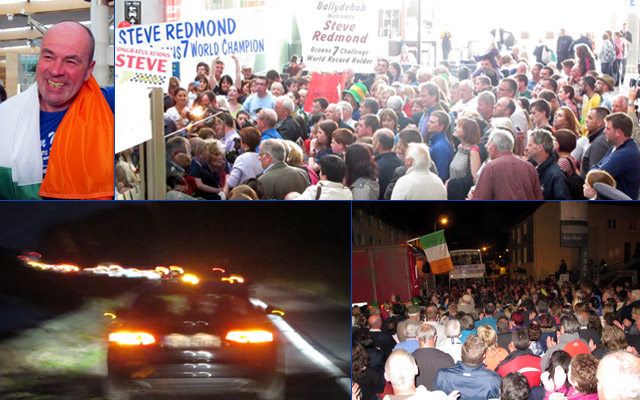 And what next?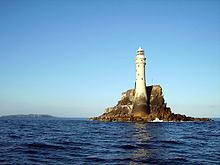 Steve is a strong advocate of a new local project aimed at establishing a purpose built unit for autistic children when they turn 18, and in support of the project he's taking to the water again. In the next few weeks he'll be attempting to swim round 'Irelands Teardrop' (the Fastnet Rock), so called as it was the last glimpse of Ireland Irish emigrants would see as they sailed to the United States in the 19th century.
Well done again Steve, and don't forget to turn around when you're out there on the far side of the rock! :)
Update: Steve successfully completed the 'Round The Fastnet' swim on 5th September.