By Martin Kay – Voice of the River.net
It was an unexpected honour to be invited by Mick and Bernadette to contribute a short piece to diaspora.ie and to speak to Irish people abroad about a part of Ireland at home.
The honour for me is a rare one and not without some inner turmoil. My maternal great-grandparents left through Dublin in the 1870s. My grand-father was orphaned in a savage flu epidemic that followed in Liverpool and, by changing his name and lying about his age, made his way into the British Royal Marine Artillery from which he was once thrown out for being too young.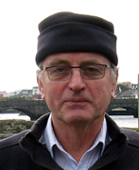 Every generation in my other maternal line was at sea since being press-ganged, I believe, in the 18th century – and my great-grandfather, whose photograph I actually have, was apparently a senior crew member, possibly a master, in the dreadful Trans-Atlantic trade in slaves, emigrés and coffin ships.
The other part of me comes from Scotland and can be linked back to the Jacobite Risings, stranded in Lancashire, England, as they retreated northwards. Me? I was born in Ceylon in a house by the sea which jungle, fighting and, finally, tsunami have completely erased. I spent 19 years at sea myself and finally found my way back home to Munster where I have lived longer than anywhere else.
One passion drives me and it's the same passion behind this simple little website, voiceoftheriver.net, that caught Mick and Bernadette's attention. If you don't look after what is special or central to your existence, someone will mess it up or take it away from you. I think it is my own personal sense of a lack of permanence or origin that has allowed me to make this passion available to communities in decline. I am not always successful but I have assisted useful outcomes in some projects – even in my Ph.D. field research in counties Meath and Tipperary. And it is the people of the River at Limerick who have now asked me to become involved in reversing the apparent marginalisation of the riverbanks.
After just a few weeks, the story of the River at Limerick has begun to unfold. Among other techniques, I am using oral history to paint a vivid picture of life as it was among the various river communities. The first two oral testimonies are already posted and more will follow.

My reasoning is that, if we can understand the past and how things have come to be, then our respect will grow for the present, together with our ability to change what may have become unhelpful.
Understanding, to me, is a particularly powerful tool where young people are concerned: within a year I hope to be providing an option for the courts, so that young people who find themselves in difficulty can be sent to us to help shape the voice of the river for tomorrow.
My particular request is for any Irish women who remember life as it was among the river communities in Limerick to make contact. The history we have is all about the men – and yet if you look at the first two testimonies you can see that the women were amazing towers of strength. I want to record their testimonies too, so that our young people can really understand what they are engaged with.
Thank you and go mbeannaí Dia daoibh agus Muire.
Martin Kay.
martin@voiceoftheriver.net
————————–
Update – 1st Dec 2012:
PRESS RELEASE
The Voice of the River project has launched a KickStarter appeal for support for its Oral History programme among Riverbank communities at Limerick. KickStarter reaches audiences on both sides of the Atlantic and is designed to help unusual creative projects get off the ground.
Voice of the River is a recent Limerick initiative concerned with River life. It sets out to reposition the ideas and experience of River people in the Limerick area at the centre of local decision-making and regeneration. An imaginative website has been launched which introduces a related workplan, currently with the City Council and expected to commence early in the New Year – http://www.voiceoftheriver.net
The Oral History programme is an important part of the initiative. Four local Testimonies have been taken and are introduced on the website where new insights into Limerick's past are explained. The appeal seeks help in extending the programme to reach areas beyond King's Island:
The Voice of the River at Limerick – Oral History programme
Success in the project will raise Limerick's profile and help attract new interest and investment. The appeal will last until the end of December.
END
Contact: Dr Martin Kay, telephone no. 087 093 3292