The Wild Geese website has been running since 1997 and contains a wonderful collection of information about Irish history and heritage. The site was started by Gerry Regan and Joe Gannon who, with 15 years of passion and effort, as well as great support from friends and collegues, have created an immensely popular online Irish resource.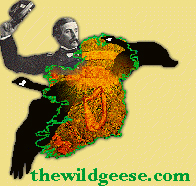 Packed with many hundreds of articles, you sense they are great custodians; "we have come to see how fragile our heritage can be, with archives and historic sites often underfunded, or under siege from mercenary interests, and government support eroded by huge and growing budget deficits."
When visiting it's like opening up a treasure trove, and each time you peel off a layer you find further delights. However they've reached a stage where they need to develop into something new and easier to use, and what they're planning is very exciting.
A new site is underway, with a strong mission statement – to empower our community through extraordinary storytelling and partnerships to explore, promote, preserve, and celebrate Irish heritage worldwide. Rich with features, it looks like the most natural way to evolve. They're 90% there and have a final funding hurdle of $15,000 to get over the line – you can read about their plans here.
We've never had any contact with Joe or Gerry, but there's something about this that makes me really want to see it come to fruition. Maybe it's the integrity that goes with 15 years of dedication, or the value placed on preserving Irish history and heritage, coupled with making the best use of technology – either way we wish them all the best.
Launch is planned for early 2013 and we're 100% looking forward to seeing the new Wild Geese.