Memories, Stories and Poems to Inspire
The Dawning Of The Day is a heart-warming paperback compiled by The Active IT Society. Rich with witty and original pieces, plus special additions from guest writers such as Ian O'Doherty and John Lonergan, it would make a great gift for anyone who likes a smile and a trip down memory lane.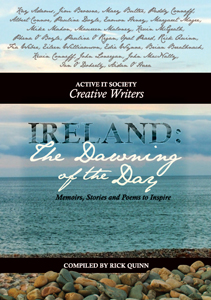 Apart from being a lovely book, sales also support the society itself. Run voluntarily with the purpose of promoting IT learning and creativity amongst the elderly, the aim is to raise funds that will enable the society to extend their community IT training into the homes of those with limited mobility.
I like this, and it's particularly relevant in these days of emigration when older people want to keep in touch with families and friends who have left. Getting to grips with the available technologies gives them many new options that were unavailable to previous generations.
So if you know anyone, either at home or away, who would appreciate a few hours of nostalgic and amusing pleasure, treat them to Ireland: The Dawning Of The Day – great book, and a great cause.
In the words of Dr Paul Perry, Poet and Lecturer, 'it's an anthology that is bursting at its seams with surprises and delights. Dip in, you won't be disappointed.'
Available now on Amazon and at OakTreePress. Enjoy :)