Throughout 2013, Ireland will open its arms to hundreds of thousands of friends and family from all over the world, calling them home to Gatherings in villages, towns and cities throughout the island.
There will be clan gatherings, unique festivals, sporting fixtures, music concerts and special interest events taking place, making direct connections between welcoming local communities and the Irish Diaspora spread across the globe. For the full year, Gathering organizers throughout Waterford County will showcase and share the very best of Irish culture, tradition, business, sport and the uniquely Irish sense of fun to over-seas visitors with a connection to the land of Crystal, the Comeraghs and the Medieval City. The Waterford Gathering is doing its part to promote and facilitate the festivities and invites you to reach out and make contact.

Join us in Waterford and let's celebrate the Gathering Ireland 2013 together in a uniquely "Deise" way.
How can you get involved? The Waterford Gathering is a centralised point of information for all things Waterford in 2013. It's all about you, your family, your ex-pat Irish friends, your workplace, your Waterford – in fact, whatever community or group you belong to – visiting Waterford County, Ireland and participating in the list of special events that will highlight what is great about the connection between your community and the County of your heritage.
Follow the Events Calendar on www.waterfordgathering.com to see the authentic enthusiasm for connecting to the global Irish family already building on the ground with our local community groups and plan your visit around the plethora of festivals, events and gatherings suited to every type of visitor.
Come to the home of the welcomes and remember anew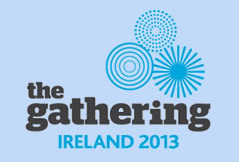 The Waterford Diaspora and Irish community groups are at the heart of the success of the Waterford Gathering. We hope you'll reach out to your international networks, far-flung groups of friends and colleagues, or even people you're connected to via Social Media, and encourage them to get involved, to invite them along on your adventure, to experience the famous Irish hospitality and create that personal connection to the Waterford of your forefathers.
The Waterford Gathering 2013 – Be Part Of It
Web: www.waterfordgathering.com
Facebook: www.facebook.com/WaterfordGathering
Twitter: @Wfordgathering