Let me introduce you to my brother, Brian O'Shea, who has spent many years with his friend Sean Donlon pounding the streets of Paris; following in the footsteps of James Joyce and Samuel Beckett.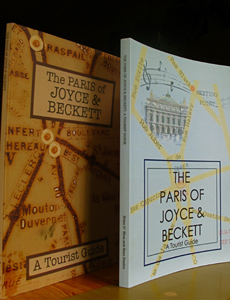 This year marks the third edition of 'THE PARIS OF JOYCE & BECKETT, A Tourist Guide', first published in 1998.
The book is divided into nine itineraries which are based on scenarios concerning J & B at different points in their lives – from when Joyce came to Paris from Trieste with his family in 1920, to 1953 when Beckett's En Attendant Godot was first staged.
They bring you on a journey, imaginary but filled with fact, with starting points, recommendations for route and duration, ranging between one and four hours.
The concept arose out of conversations in the late 1990s between two friends who were discussing Parisian philosophers becoming ever more despairing: one had committed suicide, another had strangled his wife and so on. Barmy intellectuals, not an optimist among them, all doom and gloom! Talk of despair led to Beckett, Beckett in Paris, Joyce, Joyce in Paris and then Joyce and Beckett…in Paris.

A trip to Paris swiftly followed and arriving on a cold, frosty, but bright blue-skied morning it was a joy to seek out places associated with Joyce and Beckett and start making notes. Within a few months the original pamphlet was ready. Today we have a third edition of our specialised literary guide.
"Serves to create an extremely convincing landscape in which both of these writers lived" The Irish Post
"We look forward to seeing crocodiles of Joycists and Beckettians marching determinedly along these routes" Books Ireland
"Take this with you on your next Paris trip" Independent On Sunday
"Even if you're not Beckett and Joyce enthusiasts, this guide will open Paris up to you on a whole new cultural scale" Private Review
"The itineraries are well planned, detailed and vibrant" Private Review
Wonderfully old-style, Brian can be contacted by email at bri.oshea@gmail.com, and the guide retails at £11 / €13 / $17 (plus P&P).