Finally, it seems, the young people of Ireland are finding an organised voice regarding emigration.
"We're students, precarious workers, the young unemployed and combinations of all three. We're angry and we're not leaving."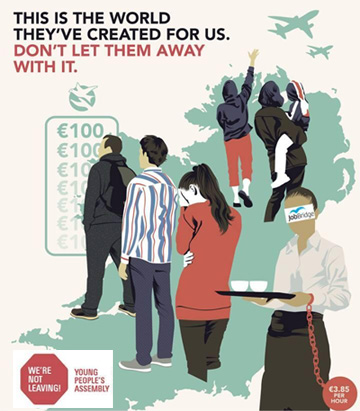 Emigration of Irish nationals has been steadily increasing since 2008 and the total to leave Ireland to April 2013 is an estimated 183,700.
An excellent study by UCC and the Department of Geography earlier this year indicated that approx 80% of those who left recently were in the under 35 age category, 62% have a tertiary qualification of three years or more, and almost half left full-time jobs.
Given the challenges of recent years this is a demographic that has, until now, appeared relatively silent. However a trigger seems to have been pulled. It may be the recent changes to state support for under 26′s, or the label 'lost generation', or one of many other factors, but whatever the reason something seems to be moving.
The first 'We're Not Leaving – Young People's Assembly' took place in Dublin on Saturday (9th Nov), was attended by about 200 people, and resulted in the publication of a charter on which they intend to build their campaign (see below).
There is a broad range of issues, some of which may be easier to address than others, but at least it's ambitious. Whether the campaign can remain intact and gain momentum, and whether those involved can change elements of society rather than packing their bags, remains to be seen.
However one thing is clear – there are a growing number reluctant to get on the conveyor belt to the airport without trying to resolve problems at home first, and it's encouraging to see young people of Ireland wanting a greater say in shaping their own destiny.
---
Youth Charter of the 9 November Young People's Assembly

PRECARIOUS WORK & CORPORATE INTERNSHIP CULTURE
We demand:
That companies be barred from displacing current paid workers with internship positions.
That a day's work should equal a day's pay – a living wage.
An end to the institutional normalisation of internship culture and the commencement of independent monitoring of internship schemes.
Stability and security in the workplace in terms of hours, income and location.
That the concept of "experience" should not replace paid work.
MENTAL HEALTH
We demand:
Universal access to free, local and high-quality public mental health services.
A collective and social approach to the de-stigmatisation of mental health issues and that positive mental health be promoted in the community, workplace and education system.
Recognition of the impact of precarious work, internship culture, unemployment and poverty on the mental heath of young people in Ireland.
YOUTH UNEMPLOYMENT & FORCED EMIGRATION
We demand:
That young people who have been forced to emigrate must have the right to vote in elections in Ireland.
An end to the recruitment embargo within the public sector.
The recognition of our status as adults in society.
That our trade unions be recognised and be allowed to collectively bargain on our behalf.
Real job creation from the government instead of token measures.
HOUSING
We demand:
That quality, accessible housing be recognised as a universal social right – free from discrimination based on gender, sexual orientation, age and/or ethnicity – and that this right is guaranteed by the state.
Strong regulation of landlords and developers in order to control housing costs and ensure access to adequate housing.
That the state utilise the existing social-housing stock, as well as properties belonging to NAMA and the bailed out banks, in the interest of the public.
FEE HIKES & GRANT CUTS
We demand:
A third-level education system that is truly free at the first point of entry that is funded by a system of progressive taxation.
A grant system be put in place for all stages of further and higher education, which enables access to education for everyone in society and reflects the cost of living.
The recognition of the broader non-economic benefits of education, as well as the recognition of the economic and social role that the students of today will play in the society of tomorrow.
Solidarity between all student representative bodies and the encouragement of political learning and engagement at all levels of education.