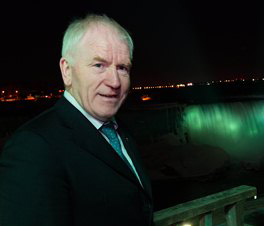 Jimmy Deenihan was recently appointed as the first Minister of State for the Diaspora and has been quick to say that "to implement a new strategy I have to move very fast." With a maximum of 20 months in office before the next general election the focus is on priorities and what is achievable.
The Minister has already indicated one area he is considering; an online register where emigrants hoping to return could submit details of their skills, however this is a bit vague and as yet difficult to determine how it would be employed.
How Ireland can better engage with its communities abroad also appears to be part of the remit, as well as welfare support for vulnerable and elderly Irish abroad, business and tourism schemes, and social-media initiatives to engage younger emigrants.
There are also a number of legacy areas which will presumably be joining the in tray, and compiling the list it becomes apparent the Minister has a fair bit to think about:
- Emigrant Voting Rights
- Undocumented Irish (US)
- Forgotten Irish (UK)
- Emigrant Support Programmes
- Global Irish Economic Forum
- Global Irish Network
- National Diaspora Centre
- Emigrant Register
- Diaspora Tourism
- Evolving Diaspora Engagement
How much can be delivered within 20 months? Maybe one or two key areas combined with a couple of quick wins, and at this point it's tempting to get into previous commitments and the pros and cons of each particular topic. A better approach however might be to consider the longer term. A new diaspora policy is due to be published in the coming months and hopefully this will communicate a vision, an overall strategy, and a path to deliver that strategy effectively. It should ideally be cohesive enough to outlive the life of a government.
By all means, yes, some quick wins, but given that the revised policy will shape future engagement it is probably the most important aspect of his tenure. If the Minister can set strong foundations for a renewed diaspora relationship, that transcends the term of political office, it will be solid progress.