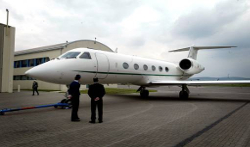 Following the recent grounding of the Irish government's jet, a Gulfstream IV, and the €40 million cost of a new replacement, officials have urgently been looking at alternatives. Fortunately the Department for the Minister of Defence seems to have found a solution.
A spokesperson, apparently on condition of anonymity, confirmed that various options were considered, but the one that floated to the top just couldn't be ignored. Endorsed by the Department for the Environment, and fully in line the government's green initiative programme, a brand new Eir Force One is now only breaths away.
"We had to find something that was low on procurement cost, running costs, and maintenance, and in my new role I am pleased to announce our decision" said the Minister.
The solution is indeed versatile and innovative, and it opens up many possibilities. Coming in at less than €100k the purchase price will appease Irish tax-payers, and the ability to park it on the Dáil roof offers immediate access in urgent situations. Leinster House will need minor alterations, notably some pipework from the chamber to the upper areas, but the self-fuelling capabilities more than outweigh the investment.
Officials also confirmed that, whilst the new mode of transport couldn't reach the flying speed of the old Gulfstream, the restructured ETAs would allow for additional contemplation en-route. "We feel this may offer some benefits" they added.
It is not yet clear when Eir Force One will be ready for its first flight, but with the Dáil due to recommence after the summer break it's hoped the inauguration will take place a day or so into the new session. Behind the scenes, the gossip in the corridors is that a couple of recently deposed Labour ministers might be brought back in to speed things up.
The government is considering whether to mark the event with a public display of the launch, however this has lead to some ministerial jockeying for position as apparently many feel their contribution warrants a seat.
As is expected the opposition parties voiced some concerns. The Fianna Fail leader somewhat strangely questioned whether his legacy, the smoking ban, would be be complied with whilst travelling, and when no response was forthcoming another member mercilessly quipped "maybe Eir Force One could represent the government by itself, without any actual passengers!".
Regardless, we think the solution is brilliant, and we're especially curious as to whether the new Minister for the Diaspora will avail of the facility in time for Paddy's day.
What we can't help wondering about though, is why was the fueling technician smiling quietly to himself when the announcement was made..?
.
.
.
.
.
.
.
.
.