RTÉ currently plans to cease operation of its longwave radio service to the UK on 19th Jan 2015. A service that Irish citizens in the UK have been listening to, and relying on, for many decades, and one that remains particularly important to those who left Ireland some years ago.
Transmission was due to cease earlier this year, but the deadline was extended in an attempt to get a better audience measure. If enough evidence is collected RTÉ will hopefully continue the service however they face two challenges:
Long-wave listenership cannot be verified
Many of those who do listen are not internet users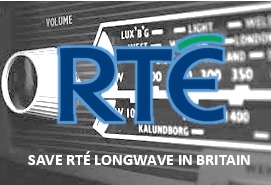 The Irish In Britain are running a campaign asking RTÉ to postpone the shutdown until adequate alternatives are available. They are collecting signatures on paper, as well as online, and every signature counts as the axe draws closer. Their biggest hurdle is awareness – many of those who value the service have no idea it is about to close.
SIGN THE ONLINE PETITION HERE.
If you are a listener, or have family, friends, or relatives that rely on tuning in to stay in touch, spread the word. Letting such a valuable service slide out of operation simply because many were unaware of the decision would be a travesty, and once gone, it's gone!
Supporting Articles:
Irish Times: 8th Dec:
Irish in UK urge RTÉ to retain radio service
Irish In Britain: Campaign page:
Save RTÉ long–wave radio in Britain
Irish Post: 11th Nov:
RTÉ Radio 1′s longwave service is a priceless link to Ireland for the Irish abroad
Irish Times: 15th Oct: Noreen Bowden (globalirish.ie):
RTÉ's decision to cut longwave radio service will sever a vital link with Irish abroad
---
Update: 20th December:
RTÉ announce extension to longwave transmission
.
RTÉ Radio 1 has confirmed that its Longwave 252 transmission service now has a revised shutdown date of 2017. A full service will continue through 2015 with reduced hours in 2016, working toward full shutdown in 2017. Whether this will lead to a repeat of the current protest waits to be seen, but at least it allows some time to look at audience levels and to consider alternatives.